This is the place to find upcoming Agricultural Leadership of Oklahoma (ALO) events and information about opportunities that ALO members may want to participate in.
---
In lieu of an in-person ALO event this year, we have opted to do our fundraising in a virtual format, due to the pandemic. We are very thankful to have 5 amazing prize packages that you can enter to win! These are all one of a kind experiences, and a few aren't opportunities that would normally be open to the  public.
Please take a moment to visit our 
Oklahoma Adventures Raffle Website
 for details on the prize packages, and to purchase entries. We have 2 unique hunting experiences, a VIP Wine Tasting, and 2 really special Cabin stays near Broken Bow Lake.  You won't want to miss this!  Entries can be purchased from now until August 31st at midnight. Winners will be randomly drawn on September 1st.
We also have a special request: Please SHARE the link and info about this raffle to at least 3 of your friends and family! Anyone is eligible to purchase raffle entries for the prizes they are interested in. 
You can also text "ALO" to (406)302-5086 to receive a link to the raffle.
We appreciate your support of Agricultural Leadership of Oklahoma, all funds raised go to support the Oklahoma Agricultural Leadership Program!
Good luck!
---
Past Events
Blessings from the Field (Everyone Welcome)
Evening of August 26th, 2017
The Agricultural Leadership of Oklahoma Board (ALO) will be holding a Blessings from the Field, annual fundraiser dinner at White Dog Hill Restaurant in Clinton, Oklahoma, on August 26, 2017 at 7:30 pm —Address (22901 Old 66 Frontage Road, Clinton, OK 73601). This dinner will be held to benefit the Oklahoma Ag Leadership Program (OALP).  The purpose of this event is to bring past alumni from the OALP program together to raise money for continued program necessities and to ensure continued success for future OALP classes. The ALO Board has had much success with this event two years ago in Northwest Oklahoma and has decided to plan a similar event in different regions of the state. This year the region selected will be Southwest Oklahoma.  ALO board members have been working diligently developing a wonderful evening that will showcase a wide array of fantastic cuisine options for those who plan to attend.   Equally important, we are looking forward to showcasing Oklahoma's agricultural heritage and industry. We will also be taking people on several food experiences that lend themselves to other regions of the world, all while showcasing the famous agricultural products we grow right here in our great state!
Entertainment for the evening will be provided by the Kristyn Harris Trio for more information on the band you can click here at https://www.kristynharris.com/videos
If you have questions or need additional information, please contact me at 405.608.4350, or by email, mschulte@okwheat.org.  Most importantly, mark your calendars for August 26, 2017 and plan to join us for Blessings from the Field 2017!
Sincerely,
Mike Schulte
PayPal Ticket Purchase Button
Tickets are $125 each. Please bring receipt to the dinner.
OALP/ALO Education and Christmas Dinner (Current OALP and ALO members, spouses and recruits welcome) 
Saturday December 5, 2015
Wes Watkins Center, Stillwater OK
2:00 pm – 5:00 pm: Educational Session
Topics will include:
Estate Planning: Dr. Shannon Ferrell, OSU Ag Economics
UAVs in Agriculture: Dr. Paul Weckler, OSU Bio-systems Ag Eng. 
Big Data: Dr. Terry Griffin, Kansas State University, Ag Economics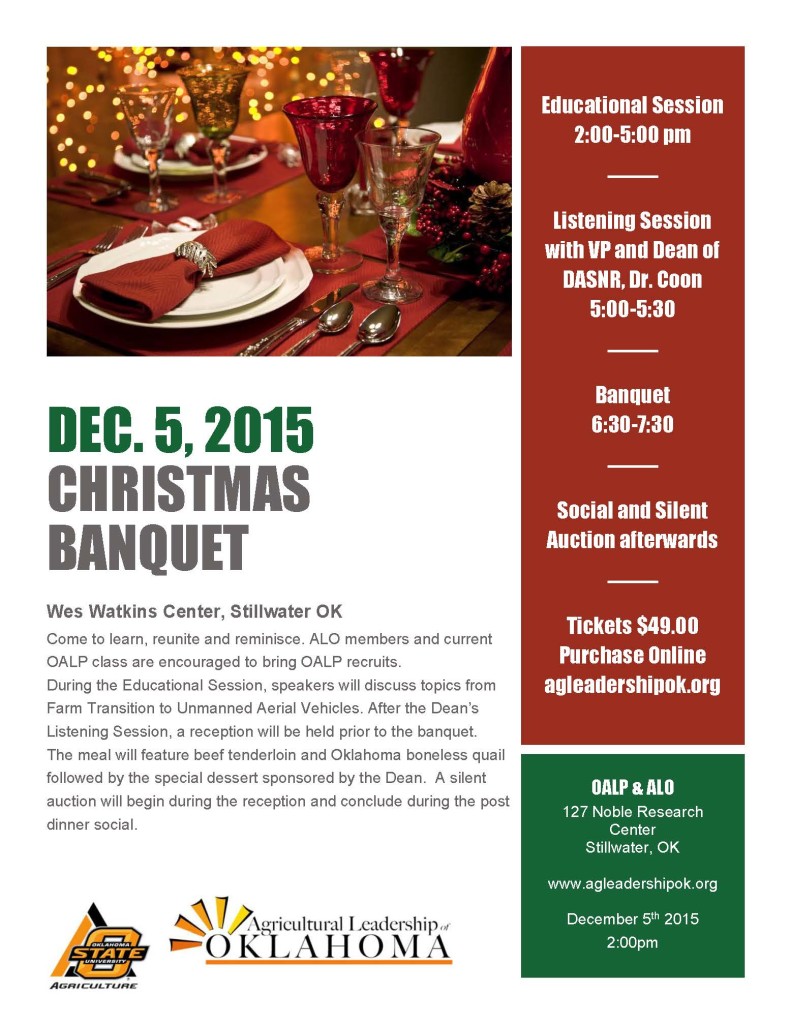 Down load PDF of flyer for distribution and sharing. Dec 5 2015
---
Blessings from the Field (Everyone Welcome)

Sunday September 13, 5:00 pm
A NW ALO dining extravaganza. 
A four course dinner featuring locally produced food, prepared with care by Executive Chef Brad Johnson, of the Hal Smith Restaurant Group and paired with wines chosen by Jake Regier, Sommelier and General Manager of the Mahogany Prime Steakhouse of Tulsa. Dinner will be served by the Officers of the Fairview, Ringwood, and Cimarron FFA chapters. During the meal guest will learn about the food they are being served and those that raised, produced, and prepared it.  
Chef Brad Johnson Biography:
Brad Johnson began his culinary pursuits learning country cooking from his grandmother and mother in Asher, OK. After attending Oklahoma State University, he moved to New York City to work for The Riesse Organization in their new TGIFriday's division. To further his culinary knowledge he attended Culinary Institute of America in Hyde Park, NY. Following graduation in 1995 he returned to Oklahoma, with his family, to teach at OSU in the Culinary Arts department.
Through his association with OSU he met and began to work for Hal Smith of Hal Smith Restaurant Group as their Executive Chef. He has developed the menus for some of the company's most successful concepts, including Charleston's Restaurant, Mahogany Prime Steakhouse, Redrock Canyon Grill, Louie's and Toby Keith's I Love This Bar and Grill. In 2007, Brad purchased the spice company, The Allen Oliver Group, from Allen Oliver, and has successfully built the company to one of the favorites among BBQ restaurants across the country.
http://www.frugeseafood.com/chef-brad-johnson/
Location: The Home Place Country Estates Meno Oklahoma.
https://www.facebook.com/TheHomePlaceCountryEstate
Ticket Cost $125 per plate, All proceeds to go ALO a 501 c 3 organization in support of Oklahoma Ag Leadership Program.
Event is Limited to 100 tickets.
Download PDF BlessingFromTheFieldFlier.8.13

Blessings from the Field Supporters.
---
September 11, 2014 ALO Golf Scramble, Turkey Creek Golf Course, 5 miles west of Hennessy.
For information on Sponsorship and Registration email Brian Arnall, b.arnall@okstate.edu with ALO scramble in the subject line.
Registration Form ALO – Golf Registration-Sponsor Form 2014.final
Downloadable Flyer for distribution (PDF)  2014 Scramble Flyer